LOVEJOY Tool Company, Inc. Introduces the NEW Catalog of products - CAT05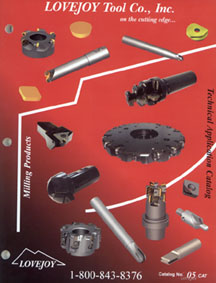 Click Here for - Flyers

Springfield Vermont - January 31, 2005 - LOVEJOY Tool Company, Inc. introduced a new Catalog of products to make it easier for a machinist to select the proper milling tool to solve his or her machining needs.

Applications: The catalog features guides for selecting the proper tooling for the application being performed, as well as machining parameters, that, are excellent recommended starting points for running these milling tools. Descriptions of the grades and the material that they machine best are shown on all insert pages.

Specials: Examples of custom built tooling are also displayed in the catalog to give the machinist an idea of the types of tooling that LOVEJOY Tool Company is capable of designing and building.

Products: This catalog contains a range of standard products such as inserts, end mills, face mills, slab mills, PCD / CBN diamond tooling, high velocity tooling and slotting cutters as well as holders for some of this tooling.

LOVEJOY Tool Company, Inc. specializes in custom designing and building milling cutters, inserts and some accessories for machinists in the aerospace, automotive, heavy equipment, mold and die, farm and industrial and many more industries. LOVEJOY is known for being a problem solver in the milling industry and we are here to solve your machining needs.





Go to Press Releases by clicking here.