LOVEJOY Tool Company, Inc. Introduces our NEW 215 Series with APKX inserts!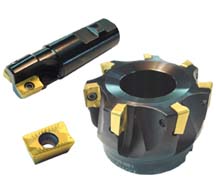 Click Here - 215 Tooling

Springfield Vermont - October 03, 2005 - LOVEJOY Tool Company, Inc. introduces a new series of products to make it easier for a manufacturer to select the proper milling tools to solve their machining needs, now with a longer length of cut!

Applications: The 215 Series Face & End Mills use the APKX style inserts utilizing a longer edge of the APKX inserts providing a longer cutting surface! The 215 Series End Mills have coolant through capability to allow increased feed rates!

Special Information: The 215 Series tooling with its 15mm length of cut is a great addition to having the 207 & 217 Series tooling which have a 10mm length of cut. As always the finish that is produced by the 215 Series tooling is very good and you can get it all from LOVEJOY Tool Company.

Products: LOVEJOY offers multiple style tools for these APKX inserts.
* 215 Series Face Mills - longer cutting edges with APKX inserts
* 215 Series End Mills - longer cutting edges with coolant holes & extended lengths

LOVEJOY Tool Company, Inc. specializes in custom designing and a manufacturer of milling tools, inserts and some accessories for manufacturers in the aerospace, automotive, heavy equipment, mold and die, farm and industrial and many more industries. LOVEJOY is known for being a problem solver in the milling industry and we are here to solve your machining needs.





Go to Press Releases by clicking here.